Another Epic Indie Game Bundle by Bundle-In-A-Box!
Awesome 11 games, 3 Sountracks and extras!
It contains this Alpha Version of Lune - a gentle puzzler, the 4 games Blackwell Adventure Game series, Super Tower Rush - a one keyboard multiplayer action game, the social-media phenomenon Secret of the Magic Crystals, an epic adventure Pixelry, Hamlet or the Last Game without MMORPG Features, Shaders and Product Placement ???, and 3 hacker games.
Pay What You Want, DRM-free + Steam & Desura with games for PC, Mac and Linux!
The top contributors will win a gaming mouse & pad by RAZER
This game bundle contains
The Blackwell Legacy
The Blackwell Legacy is the first case in a miniseries of games that stars a medium named Rosangela Blackwell and her spirit guide Joey Mallone.
Blackwell Deception
Street psychics. Their blinking neon signs are everywhere, promising love and wealth and happiness. They make a fortune preying on the gullible and milking them dry. So when these victims begin dying and leaving confused spirits behind, it can only take a genuine psychic (and her wayward spirit guide) to clean up the mess.From seedy downtown nightclubs to penthouse apartments to a luxury yacht on the Hudson River, Rosa and Joey will unearth the truth about the underground world of street psychics. Including some secrets that Joey would rather be left buried.
Hacker Evolution
Hacker Evolution is a hacking simulation game, featuring unparalleled graphics and features. You play the role of a former intelligence agent, specializing in computer security. When a chain of events sets off worldwide, leaving critical service
Hacker Evolution: Untold
When the number of computers in existence and their processing capacity exceeds that of all mankind, a point of technological singularity is encountered. A massive economic and systematic crisis hits the entire world. Nobody knows the exact cause, and
Hacker Evolution Duality
Hacker Evolution Duality is the hacking simulation game, developed by exosyphen studios. Based on the successful Hacker Evolution game series, it has been completely redesigned to offer an impressive and new gaming experience.
Lune ‐ Alpha-Version
Lune Looks Stunning [...] Downright majestic, even. -Rock Paper ShotgunLune is a wildly innovative game about reflection and solitude.A visually stunning offering which lets you actually control the Moon.Lune's [...] a gentle puzzler built of tiny, glittering victories and tailored to reward experimentation. -EurogamerLune is a game that lets you control the moon -Destructoid
Super Tower Rush
Once upon a time, there was a tower every knight and lady who had a wish visited. Racing another aspirant was the only way for their own wish to come true. The fastest one at descending the Tower would be the winner.Super Tower Rush intends to bring old values back, such as the shared experience of head to head gaming, even from the same keyboard, although it does include a system for both online and solo play. Then again, racing to the bottom of the tower has always been a social and splendidly animated affair.
Secret of the Magic Crystals
In this game your horse-breeding farm is animated in a fantasy surroundings. The game enables you to breed legendary horses such as Pegasus, Unicorn, Fire-steed, Ice-steed and Demon-steed.
Pixelry
Welcome to the world of pixelated chivalry, where your courage, your reflexes and fame will encourage you to reach the dream of every self-respecting knight; marry the beautiful young princess Arianna Annabelle di Grandigund Hyacinthe.An epic adventure set in medieval times and the world of chivalry, where our protagonist must acquire new and increasingly better equipment and master the fine-yet-brutal art of jousting to achieve his mission. Oh, and do please keep in mind that Pixelry is still under development and will keep on evolving.
Blackwell Unbound
The year is 1973. The sound of a lone, ethereal saxophone drifts over the Roosevelt Island promenade, while a series of accidents plague a midtown construction site.
Blackwell Convergence
A new film opens to rave reviews, despite its bloody history. A beautiful uptown office remains unoccupied, despite its prime location. A downtown artist berates himself for selling out, while a Wall Street investor congratulates himself on a job well done. Just normal life in the big city? Or is something more sinister binding these events together?Bizarre connections are a dime a dozen for the Blackwell family, but just how far back to they go? Medium Rosangela Blackwell and her spirit guide Joey Mallone are about to find out.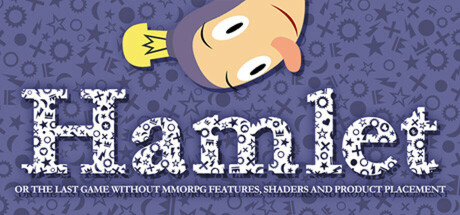 Hamlet or the Last Game without MMORPG Features, Shaders and Product Placement
A wildly original and actually beautiful point-and-click adventure based on a twisted version of William Shakespeare's Hamlet.