Are you good or evil? Find out!
This bundle includes Tentacle Wars, Doodle God Premium, Doodle Devil Premium, Wave Wave, Little Big Adventure, TowerMadness 2, EPOCH.2, Mikey Hooks, EPOCH and Zombie Gunship.
Pay what you want starting at $1. Pay more, get more!
All games are playable on Android. (Please check the full system requirements!)
Hint: Don´t miss the other Humble Bundes.
This game bundle contains
Mikey Hooks
RUN, JUMP, SLIDE and HOOK! Mikey will have to run, jump, slide, and hook his way past evil robots, spinning blades, electric electricity, bottomless pits and sharp spikes.
Wave Wave
Wave Wave is a savage arcade game. Hectic. Extreme. Addictive. Racing. Tumultuous. Blitzing. Electric. Anaerobic. Treacherous. Fearless game play.
Little Big Adventure - Enhanced Edition
Little Big Adventure (also known as 'Relentless: Twinsen's Adventure') is an action-adventure RPG designed by Frédérick Raynal. It offers an epic story, quality puzzles and hundreds of characters and dialogues.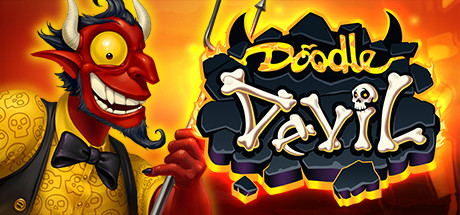 Doodle Devil
Discover the seven deadly sins and watch as the world crumbles at your fingertips as you create thousands of dastardly deeds. Combine fire, earth, wind & air to create demons, beasts, zombies... and much more. Being bad has never been so much fun!
Zombie Gunship
Zombie Gunship puts you in the gunner seat of a ground attack aircraft. Strategically fire your powerful guns to slay endless waves of zombies and protect the remaining survivors.
EPOCH.
UNRAVEL THE MYSTERY! Follow the echoes of a lost civilization in a visually-stunning post-apocalyptic world where only robots survive to fight a never-ending war.
Doodle God
Doodle God is an addicting puzzle & world building game where players use logic and ingenuity to create the entire universe. Starting with the basic elements of earth, wind, fire and air players can build a world filled with locomotives, Dragons, ...
EPOCH.2
The epic saga of post-apocalyptic robot combat continues! EPOCH has trekked across a war-ravaged country to find the one person he was programmed to protect: the Princess Amelia.
TowerMadness 2
The aliens are back, and this time they're on a mission to turn your beloved sheep into sweaters for their emperor! Protect your flock using quick thinking and an arsenal of awesome weapons.
Tentacle Wars
A contaminated alien organism is about to die...take a deep look inside, while it launches its final defense program. Enter a microscopic world of cells, neurons and DNA tentacles.