A new remute bundle...
Included you´ll find the games Vector Strain, Car Washer: Summer Of The Ninja, LowcoBall, The Chaos Engine, Starlord, World War II GI, Carri's Order Up, Gon' E-Choo, Blam Blam Planet, Gaspar's Ghost Panic and Deranged Rabbits.
All games are playable on Windows PC. Selected titles are also available on Mac and Linux. 4 titles contain Steam Trading Cards. Pay what you want starting at $1.25. Pay more, get more!
This game bundle contains
Deranged Rabbits
Deranged Rabbits is a fast-paced platformer game. You are Fluffy the Bunny, and the goal of the game is simple: get the carrot in each level! Do it fast enough, and earn a cabbage to unlock extras. Play alone or with up to three other bunnies. Are you ...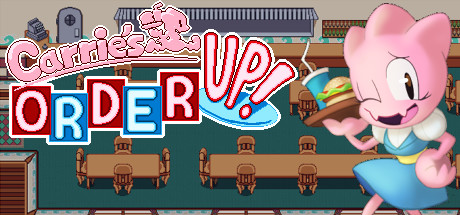 Carrie's Order Up!
Cute, 2D arcade action game starring crustacean waitresses serving food to other aquatic folk.
Gon' E-Choo!
'Gon' E-Choo!' is a 3 stage, arcade-style game based on the earliest arcade platformers. Collect 10 letters in each stage while avoiding an irate and unrelenting gator!
Vector Strain
Addictive fast-paced shoot-em-up with beautiful 3D graphics and an amazing soundtrack. 5 ships to choose from and 5 action-packed Stages.
LowcoBall
LowcoBall is a fun, crazy physics-based soccer game where you must do a lot of goals to win cups and accesories for your team. Your objective is easy: win all cups with your goals. How awesome is that?
The Chaos Engine
Prepare for the dark world of The Chaos Engine, a steampunk Victorian age in which one or two players must fight the hostile creations of the Chaos Engine across four dynamic landscapes and take part in the ultimate battle. Choose from six hard-nailed ...
Car Washer: Summer of the Ninja
Summer break, a time to relax and have fun. But what's the difference between a good summer and a great summer? Spending money, of course! And what better way to earn some extra cash than a car wash? Unfortunately, the local branch of Ninja Car Washing
Starlord
You are a Starlord. In command of a planet but hungry for real power. Your ultimate aim: to control the entire Galaxy and enable your family dynasty to rule forever. But one thousand other Starlords have similar ambitions!
World War II GI ‐ WWII GI
WWII GI is the invasion of Normandy. The paranoia. The fear. the intensity that was D-Day. You will experience it first hand.
Blam Blam Planet
BLAM BLAM PLANET is an endless FPS originally created for Ludum Dare within 3 days. The theme of the jam was 10 Seconds. You (and your comrades) shoot lot of evil aliens on a planet, but every 10 seconds your weapon switches randomly - hilarity ensues!
Gaspar's Ghost Panic
How long can you keep your cool under a ghastly attack?