Build your own bundle...
Create your own game package. Customize your bundle from these items: Battles of Norghan, The Planet of the Vicious Creatures, The Epsilon Outcome, Archimedes, ClawMegaUltra, Hexderity, Sally Face, Episode One: Strange Neighbors, Defenstar, The Crow and Rooftop Cop.
Each game is playable on your Windows PC. Build your bundle or grab the complete bundle for $3.
This game bundle contains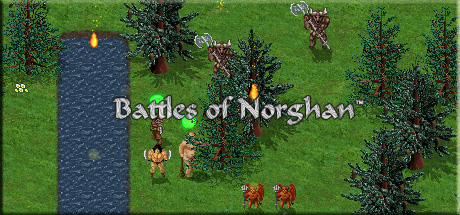 Battles of Norghan
Battles of Norghan is a unique gladiatorial management and strategy game where you not only must recruit, train, and equip fantasy gladiators, but also control them on a tactical grid in turn-based combat.
Archimedes
After you purchase and install Archimedes, an old operating system appears to be running, and a strange man asks for your help as you start to discover the terrible secrets behind the game.
Rooftop Cop
A world of Police that have forgotten what, and why, they are policing. Rooftop Cop is a collection of five endless vignette games and a 7-track album. The games are set on a loose metaphysical timeline in which the Cops slowly lose their way.
The Crow
You are the one lost crow, and you are wandering in the woods alone. You can't see your family or friends in there. And furthermore, the storms will come over the land.
Defenstar
Defenstar is a horizontal scrolling shoot'em up inspired by games like Defender, Datastorm and Dropzone. There hasn't been a game made like this in a long time. Defenstar has wonderful graphics, sound and smooth gameplay! It will test your arcade ...
Sally Face, Episode One: Strange Neighbors
Hexderity
The clock is ticking - find matching pairs of hexagons to buy yourself time. With bold visuals and electrifying audio, prepare to enter a trance and emerge a master.
ClawMegaUltra
ClawMegaUltra is the thrilling sequel to a mobile game I released a few years ago.With better . . . performance / graphics / musicAnd more . . . modes / toys / featuresClawMegaUltra is already available on itch.io if you're into that
The Epsilon Outcome
Surrounded by a strange forest, you come across a large, peculiar metal cylinder in the middle of a murky marsh. It has slimy, rusty ladder rungs along one side. You don't know why it looks slightly familiar, but somehow you are sure that you need to
The Planet of the Vicious Creatures
The Planet of the Vicious Creatures is a platformer set in space, with old-school gameplay, reminiscent of those enjoyed on 8-bit computers. You advance through single-screen levels where you have to collect at least one oxygen bubble to be able to pass