Build your bundle!
Create your own game bundle. Select from the following games: The Last Hope For All, Tribal Siege, Skedaddle, Skeletal Dance Party, Attack of the Mutant Fishcrows, Dungeons are Random, Disastr_Blastr and Koru.
These games are playable on Windows. Some are also available on Mac and Linux. Vote for them on Steam Greenlight, and once greenlit, you get a free Steam key!
This game bundle contains
Disastr_Blastr
Descend into a radical new dimension of abstract minimalist arcade fury in Disastr_Blastr! Blaze your merciless path of devastation through an expansive non-linear game world with 100+ stages of cortex-shattering cubic mayhem!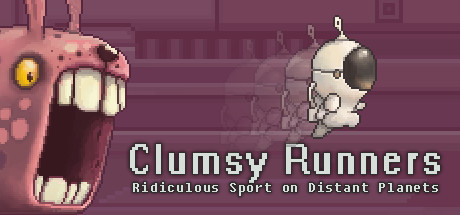 Skedaddle
Learn how to successfully run while making qua-zillion mistakes. Run through 10 procedurally generated chapters. Die a lot. Buy upgrades. Unlock 5 characters with special abilities. Most importantly: keep your fingers healthy.
Dungeons Are Random
Dungeons are Random is a fast-paced roguelike game, where everything is meant to be generated as randomly as possible, while still being enjoyable as a game. It's a mix of a roguelike and an action-rpg game: you improve your hero by running around and ...
Skeletal Dance Party
You are a cute foxgirl necromancer who hosts a dance party for her Skeletons. But knights are trying to ruin your dance party! Defend yourself and your disco ball!Game name The working name of the game is "Skeletal Dance Simulator". To avoid
Tribal Siege
"Tribal Siege" is hybrid RTS/Action game.You are the leader of tribes. There are strong creatures each tribes. They are huge and powerful. It's enough to be able to smash enemy minions just walking. They are called
The Last Hope For All
We are on Greenlight!The Last Hope For All is a FPS taking place in an infected part of the United states. TLHFA offers a variety of play modes in rich and varied scenarios with a huge amount of content.StoryThe new virus first appeared eight ...
Attack of the Mutant Fishcrows
Solo-developer for first game Attack of the Mutant Fishcrows, Survival 2D Platformer. The lands are plagued with deadly waste matter. Run to survive!The evil alchemist is behind the onslaught,this one is responsible for the hordes of mutant fishcrow
Koru
(Game Goal)Koru is developed for the Charity organisation HiHi Trust (www.hihitrust.org)- Goal of the game is an evil force has stolen the life force, song and soul of the land turning everything grey and darkening crystal by draining their energy