Get 10 games for just $4.50 (€3,40)
This game bundle contains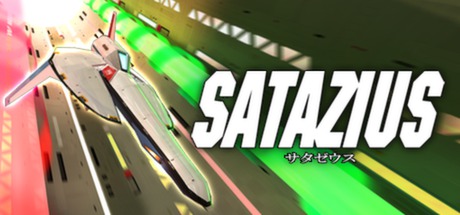 SATAZIUS
The year is 2051. Location: SATAZIUS, a long-abandoned planet. The cruiser Agano was on patrol when it was attacked and stricken by a confederacy of space pirates that had established a base on SATAZIUS. The pirates attacked the Agano intending to steal the assault ship 'Trafalgar' that was stowed aboard the Agano, but the Trafalgar made...
War of the Human Tanks
War of the Human Tanks is a story driven strategy game with a gameplay reminiscent of Battleship and Chess, featuring a story of war, loyalty, sacrifice and human shaped tanks.
Cherry Tree High Comedy Club
Guide Mairu through idyllic Cherry Tree Town as she makes new friends and endeavors to persuade them to join her high school comedy club.
Pester
A blast from Flump Studios past! Pester was released on Xbox live indies back in early 2013 and was Flump Studios first game developed for public release. A remake of one of my early C64 games, Pester is a very fast paced and busy retro vertical shooter.
CAFE 0 ~The Drowned Mermaid~
What will you do if you can redo the last 7 days before you died? Try this unique supernatural mystery visual novel!
Croixleur
Croixleur is a frenetic hack & slash arcade action game.Featuring Story Mode, Score Attack Mode and Endless Mode, 10 unique weapons to collect and 20 in-game Achievements.New with the English language version are widescreen, HD display modes!
ETHER VAPOR Remaster
A great classic arcade Shoot 'Em Up with nice graphics and vertical, horizontal and cinematic chase cam views.
Yousei: The Third Investigation
Summary: "Also, try not to die. That would be bad."For the last few years Kangai has been a wanderer, but his return to his hometown has triggered a series of deaths linked to his past. With a bit of less than gentle prodding, he joins a group of
Yatagarasu
One of fighting scene in Japans best kept secrets, Yatagarasu is a 2D fighter of remarkable quality.Taking in a range of influences from Street Fighter III: Third Strike to King of Fighters, Yatagarasu is a fighting game aficionados delight, boasting
Jisei: The First Case
Summary: "I can relive the dying moment of any corpse I touch."Jisei is a supernatural mystery game produced by sakevisual. A teenager with no name and no home wanders from one city to the next, burdened by the weight of his extraordinary ability.
Kansei: The Second Turn
A teenager with the ability to relive the death of any corpse he touches finds himself tangled in another murder case when the owner of a high profile corporation dies under mysterious circumstances. This time, however, he's forced to team up with a
Dysfunctional Systems: Learning to Manage Chaos
A visual novel featuring a mediator traveling between chaotic worlds!